Hablamos Espanol
On-site Training
CALL NOW FOR PRICING
(888) 501-1355
Forklift Battery Safety Inspection
Each time you operate a forklift or other powered industrial truck, inspect it to ensure that it is operating properly. Ongoing battery maintenance is critical so that the forklift is always safe and ready to get your work done. whereas removing and replacing batteries from forklifts, only specially equipped forklifts or battery carts specifically designed for transporting batteries should be used for this process.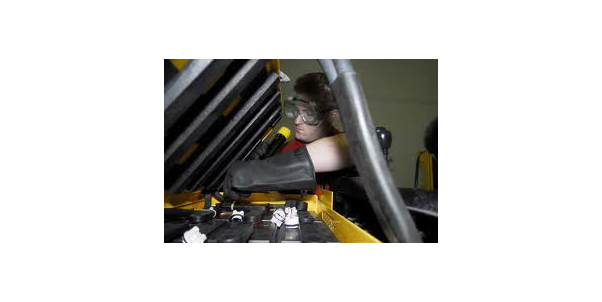 As battery charges, it produces an effect called "outgassing," where the battery releases a combination of oxygen and hydrogen into the air. Because of outgassing, charging stations need to be well – ventilated. If an onboard charging station is used, the forklift should be parked in a suitably ventilated area. Follow the watering schedule provided by your Service Technician. If you do not have a watering schedule, contact your local Service Technician to provide one. Any battery that boils over may indicate a watering error. Establish regular maintenance intervals for all industrial batteries to realize the full value of your investment. With the right care, many batteries can last well beyond the length of their warranties, powering forklifts for years past the typical battery lifespan. The information in this program has been taken from a variety of sources, a variety of manufacturers and information used by many companies with excellent maintenance practices. It's a review of the basics of charging batteries, regardless of the type equipment used, however, it's up to each individual to follow your company's rules and procedures when charging batteries. Cover the top of batteries with a rubber mat or other insulating material to prevent external short circuits from chains or cables falling onto the top of the battery. Proper handling of batteries is essential to prevent injuries and to prevent battery damage or electrolyte spills.
Learn more about forklift battery water maintenance and battery inspections.
Get online forklift and aerial lift training and certification courses for the safe operations of operating lifts.